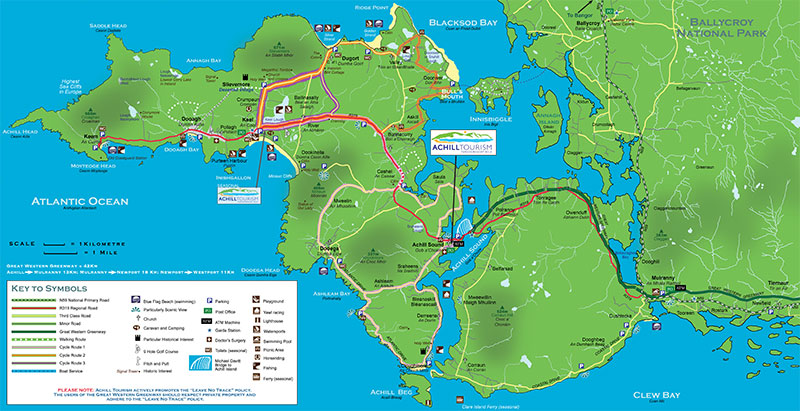 Achill Island is the largest Island off the west coast of Ireland.
We are attached to the main land by the Michael Davitt Bridge erected in 1887.
Achill boasts a long history of blue flag beaches with many of them featured in Irelands top 10 destinations.
Steeped In history Achill has long been a favourite to walkers, surfers and artistes welcoming such people as Paul Henry and Heinrich Böll.
We also have the highest sea cliffs in Europe which makes Achill a must-see island with many adventures awaiting you.
Useful Number During your Stay:
Doctors:
Achill Sound Surgery: 098 45231
Garda/Police: 09820830/999
Local Taxi service:
Paul Mcloughlin 0872390408
John Gallagher 0877011544
John McGinty 0863634106
De-fib can be accessed through the local Fire Service
Call 999.
Religious events/ Mass times:
Adjacent to Our Lady Queen of Peace, House of Prayer
Achill Sound every Sunday @11.30 am
Currane every Sunday @10am
Derreens every Saturday evening @7.30pm
Dookinella every Sunday @ 10am
Pollagh every Sunday @ 11.30am
St Thomas's church service Sunday @11.30 am Dugort.
PLEASE NOTE MASS TIMES MAY VARY